SYDNEY
CANBERRA
CENTRAL COAST
2019 recital series
concerts that excite & inspire
About
Phoenix Collective showcases classical music with a uniquely Australian edge. Bringing together some of Australia's most accomplished and high-profile musicians in a riveting recital series, the Phoenix Collective concerts offer a range of exciting ensembles and genres set in intimate & iconic venues.
An initiative of well-known Sydney violinist, Dan Elliott Russell, performances have included the virtuosic flair of Italian Baroque, the charm of Mozart's genius through to late romantic, contemporary and world music fusions; the meditative calm of minimalism; and passionate Argentine Tango.
In 2019 we are excited to announce the inclusion of new venues, the Larry Sitsky Room (ANU School of Music, Canberra, ACT) - the stunning Christ Church of Lavender Bay (Lower North Shore, Sydney)- and Wesley Music Centre (Forrest, ACT) - while still performing concerts in the majestic Hunter Baillie Presbyterian Church, Annandale (Inner West, Sydney) - and the beautiful surrounding gardens of Greenway Chapel in Green Point (Central Coast, NSW).
Concerts that will excite & inspire
Follow us on Facebook & Instagram:
2019 concerts
Book tickets:
15 - 22 SEP 2019
concert #3 - Freedom & Equality - PHOENIX QUARTET
A concert of identity, balance and harmony.
Presenting the string quartets of cutting-edge American composer, Jennifer Higdon, alongside masters Haydn, Shostakovich and Tchaikovsky. Music from a time when life seemed straightforward; from deceptively simple arrangements to more complex structures that assign parts equal importance. Music to release a woman driven by a man to acts of insanity; music that liberates closet homosexuality and unacceptance; and melodies that brought Tolstoy to tears amid depression. What positive can come from this? Some of the best chamber music ever written.
Music to free the soul.
The Phoenix Quartet is a premier string quartet that performs in Sydney, Central Coast and Canberra. Launched by Charmian Gadd at Crossroads Festival where they performed Schubert's masterpiece 'Death & The Maiden' in 2018. Its members come from the ranks of national and international orchestras such as Australian Opera & Ballet Orchestra, Canberra Symphony, Sydney Symphony, BBC Philharmonic, Kammer Philharmonie Köln, Boston Symphony and Academy of St. Martin in the Fields.
Program:
Higdon | String Quartet (Southern Harmonies)
Haydn | String Quartet in C Op.20/2
Shostakovich | Elegy for String Quartet Op.36
Tchaikovsky | String Quartet in D Op.11
21 - 30 NOV 2019
concert #4 - Ye Olde England - PIANO & VIOLIN
Royal College of Music (London) graduate, Christian Lillicrap teams up again with Violinist, Dan Russell for a recital from Ye Olde England. Calm, restful works evoking scenes of lush green pastures and mother England. Violin and piano sonatas by Delius and Elgar pave the way for one of the most exquisite works in the violin repertoire, The Lark Ascending by Ralph Vaughan Williams. A work based on English poet, George Meredith's poem:
...For singing till his heaven fills,
'Tis love of earth that he instils,
And ever winging up and up,
Our valley is his golden cup
And he the wine which overflows
to lift us with him as he goes…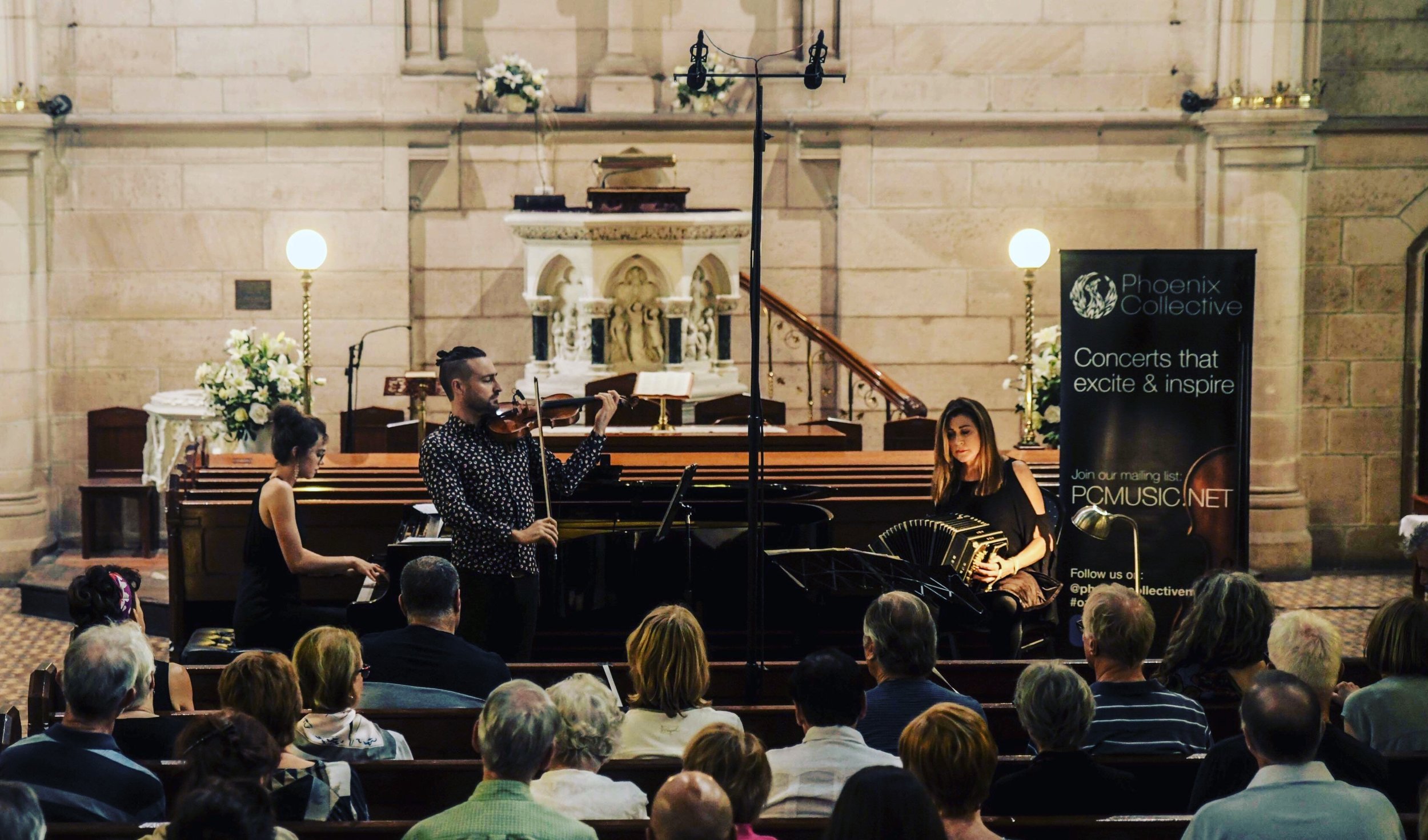 Love, life & DEath
Concert #1
Program:
Philip Glass - String Quartet No.3 (Mishima)
Shostakovich - Polka Op.36 for String Quartet
Mozart - String Quartet No.1 (Lodi)
-Interval-
Beethoven - String Quartet No.10 in E flat Op.74 (Harp)
Turtle Island Quartet, D. Balakrishnan - Skylife
Baroque Bizarre
Concert #2
Program:
D. Castello - Sonata Prima à sopran solo for Violin & Continuo
H.I.F Biber - Sonata Rosary (Mystery) Sonata No.11 - The Resurrection Original Manuscript
T O'Carolan - Si Beag Si Mor, Trad. Irish Air
J.H Schmelzer - Sonata Quarta (No.4) in D Major from Sonatae Unarum Fidium for Violin & Continuo
- Interval-
Vivaldi - Sonata for Violin, Cello & Continuo in C minor RV 83
J.S Bach - Sonata for Violin & Harpsichord in A BWV 1015
Vitali - Chaconne for Violin & Continuo (violin part arr. Charliér) Harpsichord & Cello part arr. Phoenix
Freedom & Equality
Concert #3
Program:
Jennifer Higdon - String Quartet (Southern Harmonies)
Haydn - String Quartet Op.20/2 in C
-Interval-
Shostakovich - Elegy (from 'Lady Macbeth of Mtsensk') Op.36 for String Quartet
Tchaikovsky - String Quartet No.1 in D
Ye Olde England
Concert #4
Program:
Delius - Sonata No.1
V. Williams - The Lark Ascending
-Interval-
V. Williams - Six Studies in English Folksong
Elgar - Sonata in E minor, op.82
DAN RUSSELL
"...and here Russell achieved an exquisite translucence in his violin's upper register..."
- John Shand, Limelight Magazine
A committed and accomplished professional musician, Dan has played the violin since the age of 5. He undertook formal education at UWA and WAAPA winning multiple scholarships and prizes. Dan has studied under the direction of respected violin teachers Paul Wright and Alan Bonds, and taken masterclasses and lessons with prominent violinists that include Mincho Minchev, David Takeno and Prof. Sylvio Krause in Essen, Rostock and London.
Holding positions such as first violinist (Australian Art Quartet, Australian Opera & Ballet Orchestra, Canberra Symphony Orchestra, and Sydney Philharmonia); and Concert Master (Metropolitan Orchestra 2011-12, and more recently Coast Opera Australia 2018). Dan has also performed in many chamber ensembles. He has worked in the great concert halls and venues of Australia, such as the Sydney Opera House, Harmer Hall in Melbourne, Perth Concert Hall, City Recital Hall, Llewellyn Hall, Adelaide Festival Centre and Parliament House.
Performing in Europe, U.K and China, and regularly touring with the Kammer Philharmonie Köln (Chamber Philharmonia Cologne) for 7 years across England, Ireland, Germany, Spain, New Zealand and Australia, Dan has performed more than 200 concerts. Now back in Australia, his main focus is his young family; Concert Master, Coast Opera Australia, and the artistic direction of Phoenix Collective, ensembles that perform concerts in Sydney, Canberra, Central Coast and regional NSW.
Yuhki Mayne
Yuhki Mayne has been playing the violin since the age of four. He began his studies at the Elder Conservatorium of Music in Adelaide before receiving a full scholarship to study at the University of Tasmania with Professor Jun Yi-Ma. During this time Yuhki was heavily involved in the Australian Youth Orchestra programs, becoming the concertmaster in 2014, under the baton of Simone Young and Soloist, Ray Chen. He has been a member and principal of the Australian Youth Orchestra's Momentum Ensemble. Yuhki has been a freelance musician with the Tasmanian Symphony Orchestra, Victoria Opera and Opera Australia Orchestra. In 2017, Yuhki appeared as a principal artist in Opera Australia's new production, Two Weddings, One Bride. Yuhki has also performed as first violinist of the Australian International Opera Company's Quartet in 2017. This educational tour, Draw What You Hear, was received by 22,000 children across China and was his first foray into a cultural exchange program. Yuhki continues to work as a freelance musician with the Opera Australia Orchestra, touring in 2018 as the concertmaster of the regional touring production of Madame Butterfly. He is also the First Violinist of the Quay Quartet and teaches at KB School of Music and privately.
Ella Brinch

Originally from Sydney, Ella studied at the Sydney Conservatorium of Music later moving to England to complete Post Graduate studies at the Royal Northern College of Music. She remained in England for 9 years, returning to Australia in 2012.
Ella has performed with orchestras both in Australia and England since 1999. These include the Sydney Symphony, Halle, Philharmonia and the Academy of St Martin in the Fields. She was also a member of the City of Birmingham Symphony Orchestra for three years.

A passionate chamber musician, Ella was the violist of the Barbirolli Quartet for 8 years. The quartet performed throughout the U.K. and internationally and as a member of the quartet she has given concerts in some of the greatest halls in the world including Wigmore Hall, Bridgewater Hall, the Concertgebouw, Cologne Philharmonie, Stockholm Konserthuset, Vienna Konzerthaus and the Lincoln Centre in New York. As well as this, the quartet appeared in major music festivals such as the Cheltenham Festival, Aldeburgh Festival, Festival Aix-en-Provence and the Verbier Festival. She has collaborated with some of the finest English musicians such as violists Philip Dukes and Garfield Jackson and pianists Simon Crawford-Phillips and Steven Kovacevich. In 2009 the quartet gave a series of performances of Mendelssohn's Octet with the Australian String Quartet. Later that year the Barbirollis toured Singapore, New Zealand and Australia for the Royal Overseas League giving concerts and masterclasses as well as adjudicating solo and chamber music competitions.
During her years in England, Ella studied with some wonderful musicians including Thomas Riebl, Gabor Takacs, Ferenc Rados, Eberhard Feltz, Andras Schiff and members of the Belcea Quartet, Quatuor Mosaiques and the Alban Berg Quartet. She in turn has given chamber music masterclasses and workshops to students of all ages and tutored chamber music at the Guildhall and Royal Academy of Music in London. In 2010 and 2011 she taught at Dartington International Summer School.

Since returning to Sydney Ella has been working as a freelance violist performing with orchestras and in recording sessions as well as being involved in chamber music projects.
ANDREW WILSON
Andrew Wilson began his cello studies with Denise Lawrence before studying at the Sydney Conservatorium with Susan Blake. After playing with the Sydney Symphony Orchestra for a couple of years he travelled to the USA as a Tanglewood Fellow, then to the UK to undertake postgraduate studies at the Royal Northern College of Music with Eduardo Vassallo. Andrew has also performed in Masterclasses with such cellists as Ralph Kirschbaum, Joel Krosnick, Alexander Baillie and Michael Goldschlager. He has performed with orchestras in Australia, the UK and the USA including the Tasmanian Symphony, Hallé, BBC Philharmonic and Boston Symphony Orchestras. Andrew currently freelances and teaches in Sydney, performing primarily with the Opera Australia Orchestra, where he has been a Guest Principal. He has taught at several highly respected Sydney schools as well as his own private studio, and is the founder and Artistic Director of Ensemble Vinifera.
Christopher BENNETT
Christopher holds an Honour's degree from the Sydney Conservatorium of Music, and a Master's degree from Northwestern University in Chicago. His principal teachers have been Georg Pedersen, Hans Jorgen Jensen, and Wei Yu.
Christopher has a busy career in Sydney as a freelance performer, teacher, entrepreneur, and arts leader. The past 12 months since returning from Chicago has seen Christopher give many performances, primarily as a chamber and ensemble musician. He has performed in concerts for the Sydney Bach Society, Sydney Town Hall Messiah, Guitar Passion, The Metropolitan Orchestra, and with his quartet, the Quay Quartet. Christopher also runs a recital series put on through his music school, St Leonards Music Academy. In 2019 Christopher will be performing a new commission for solo cello by Sydney-based composer Andrew Batt-Rawden.
Throughout his studies Christopher was the recipient of many scholarships and awards including from the Dame Joan Sutherland Fund, the PPCA Performers Trust (twice), an Arts Fellowship from Ars Musica Australis, and scholarships from Northwestern University and the Meadowmount School of Music. His studies in Chicago were further made possible because of the generous support of a number of private donors. At Northwestern his quartet won the honours award for their performance of Joan Tower's "In Memory".
BMus Performance (Hons), MMus

CHRISTIAN LILLICRAP
Christian Lillicrap was born in England and studied at the Royal College of Music in London with Colin Horsley and Ruth Gerald. Whilst still a student he specialized in chamber music and accompaniment and performed amongst others, with Paul Cassidy (Brodsky Quartet), Rachel Isserlis, Michael Evans (Dartington String Quartet) and in piano trios and chamber groups. He also worked as musical director for the Barbican Theatre Company and London Extemporary Dance.
Christian's teaching career, brought him to Sydney in 2000 to work at Glenaeon Rudolf Steiner School. He worked there for 12 years until 2012 and recently completed writing the Music Curriculum for Steiner Education Australia. He has worked extensively for the Sydney Eurthymy Company as their pianist.
In 2002 he formed the Aeon Chamber Ensemble with members of the SSO and AOBO and they have performed regularly since then.
Christian also has a regular partnership with Roger Benedict, principal viola player with the SSO and recently collaborated with Andrew Hines in a performance for the Australian Ballet's Body Torque. Christian is accompanist and performance coach at Knox Grammar School.
Christ church, lavender bay
10 Walker St, Lavender Bay NSW 2060
Greenway chapel
460 Avoca Drive, Green Point. NSW 2251
Hunter Baillie
Corner of Johnston & Collins Street, Annandale. NSW 2040
Larry Sizsky Recital room
Building 100, Australian National University, William Herbert Pl, Canberra ACT 2601
Robert Knox Hall
Central Coast Conservatorium
45 Mann Street, Gosford. NSW 2250
Wesley music centre
22 National Circuit, Forrest. ACT 2603
9 - 19 MAY 2019
The Baroque Bizarre
Performed by The Phoenix Baroque Trio, this concert will highlight the quirky, intoxicating and virtuosic nature of the Baroque: great works by master composers BACH and VIVALDI, and just as impressive works by lesser-known composers CASTELLO, BIBER and SCHMELZER.
This is an eclectic program exploring the realms of tone colour, experimentation and virtuosity. Featured in this concert are a newly restored Tyrolean violin (c1750) set up with gut strings; a French violin (c1850) with scordatura set-up and crossed strings for Biber's Resurrection Sonata, all tuned at A 415 Hz. This presents an intriguing contrast to the second half, played on a Cremonese Italian violin (2009) and tuned at A 440 Hz. Also featured is the Central Coast Conservatorium's French double manual harpsichord by Australian maker, Carey Beebe. This concert invites comparisons between different instruments and contrasts playing styles and period performances of the 17th and 18th centuries and the more romanticised 19th and 20th centuries.
24 FEB - 7 MAR 2019
Love, Life & Death
The Phoenix Quartet is a premier string quartet that performs in Sydney, Central Coast and Canberra. Launched by Charmian Gadd at Crossroads Festival where they performed Schubert's masterpiece 'Death & The Maiden' in 2018. Its members come from the ranks of national and international orchestras such as Australian Opera & Ballet Orchestra, Canberra Symphony, Sydney Symphony, BBC Philharmonic, Kammer Philharmonie Köln, Boston Symphony, and Academy of St Martin in the Fields, naming a few.
Quartets by Philip Glass, Mozart, Turtle Island & Beethoven reflecting different stages in life.
2-9 december 2018
Tango Origins & Passion
'Tango Origins & Passion' features Maggie Ferguson, A legend in her own right, on bandoneon, Katie Robinson on piano and PC director & violinist Dan Russell. The ensemble will explore early and traditional works from the birthplace of Tango, Buenos Aires and works by the father of Nuevo Tango, Astor Piazzolla.
22-23 september 2018
Heart & Soul
'Heart & Soul' music for guitar and violin. Accomplished national and international performers, Dan Russell (violin) and Anthony Garcia (guitar) come together to perform rearranged and semi-improvised works, especially for this event. Dr Anthony Garcia (PhD in improvisation, UTas) brings understanding of music as a universal language and works as Artistic Director of Sounds Across Oceans. The audience will be mesmerized by virtuosic hybrids and tonal colour that combine to produce dreamy soundscapes; and rhythmically driven, dance-like passages. Also featuring works by BACH, PIAZZOLLA, BERGMÜLLER and PAGANINI.
17-24 june 2018
Excitement & Flair
'Excitement & Flair' features music from the Baroque period brought to life on a magnificent French double-manual harpsichord built by Australian instrument maker Carey Beebe. Accomplished national and international performers Dan Russell (violin); Christian Lillicrap (harpsichord); and Andrew Wilson (cello) come together to perform masterworks from the Italian and German Baroque period by Tartini, Corelli, Biber, Vivialdi and J.S. Bach. The audience will be thrilled by both fast, virtuosic playing, and rich, sublime melodies by timeless composers.
24-25 MARCH 2018
Charm & Tradition
'Charm & Tradition' features Carl Schmidt on piano and Dan Russell
on violin. Audiences can expect to enjoy the sublime serenity of Arvo Pärt's Fratres, Mozart's not-so-common sorrowful side in his E minor sonata, Brahms' passionate Scherzo and to finish with, the crowning jewel of the violin and piano repertoire, Cesar Franck' sonata in A, a work
full of beauty, passion and love. Written as a wedding present and first performed in 1886 by the famous concert violinist, Eugène Ysaÿe.